Tuesday Nov. 28, 2023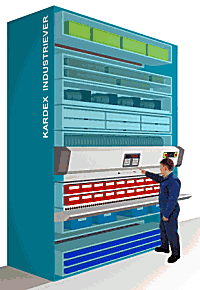 Carousel Installation
Bar-tek is at your service to install your vertical carousel system from start to finish. Bar-tek's Project Manager will handle every detail of your vertical carousel installation from un-loading the truck to training your personnel on the operation and maintenance of your horizontal system.
Carousel Service
Bar-tek is available to perform your vertical carousel service. We offer:
Emergency Field Service Calls
Annual preventive maintenance service program
Annual service contracts that include preventive maintnance and unlimited emergency service calls
On-site training for your maintenance technicians
Carousel Upgrades
If you have carousel that needs an upgrade or you have vertical carousels at your facility with old controls or are considering buying a used carousel and are concerned about the obsolete controls, then Bar-tek can solve your problem with an upgrade of your controls with a state-of-the-art retrofit.
Carousel Relocations
Whether your Vertical Carousel Relocation needs is one carousel or many carousels, Bar-tek is equipped to move your units to any location you desire.
Bar-tek will handle the product removel, the vertical carousel take-down, the transport, and the re-install of your units.
An automated storage and retrieval system (ASRS or AS/RS) consists of a variety of computer-controlled methods for automatically placing and retrieving loads from specific storage locations. Automated Storage and Retrieval Systems (AS/RS) are typically used in applications where: there is a very high volume of loads being moved into and out of storage; storage density is important because of space constraints; no value adding content is present in this process; accuracy is critical because of potential expensive damages to the load. As well as moving along the ground, the shuttles are able to telescope up to the necessary height to reach the load, and can store or retrieve loads that are several positions deep in the shelving.