Tuesday Nov. 28, 2023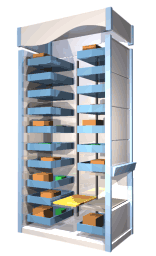 Module Installation
Bar-tek is at your service to install your vertical lift system from start to finish. Bar-tek's Project Manager will handle every detail of your vertical lift module installation from un-loading the truck to training your personnel on the operation and maintenance of your horizontal system.
System Service
Bar-tek is available to perform your vertical module service. We offer:
Emergency Field Service Calls
Annual preventive maintenance service program
Annual service contracts that include preventive maintnance and unlimited emergency service calls
On-site training for your maintenance technicians
Module Upgrades
If you have vertical lift systems at your facility with old controls or are considering buying a used carousel and are concerned about the obsolete controls, then Bar-tek can solve your problem by upgrading your controls with a state-of-the-art retrofit.
System Relocations
Whether your Vertical Lift Module Relocation needs is one carousel or many carousels, Bar-tek is equipped to move your units to any location you desire.
Bar-tek will handle the product removel, the vertical lift system take-down, the transport, and the re-install of your units.
An automated storage and retrieval system (ASRS or AS/RS) consists of a variety of computer-controlled methods for automatically placing and retrieving loads from specific storage locations.

The VLM is a computer controlled automated vertical lift, storage and retrieval system. Functionally, stock within the VLM remains stationary on front and rear tray locations. On request a movable extractor unit travels vertically between the two columns of trays and pulls the requested pallet from its location and brings it to an access point. The operator then picks or replenishes stock and the tray is returned to its home. VLM system offers variable tray sizes and loads, which could be applied in different industries, logistic, as well as office settings. The VLM systems could be customized to fully utilize the height of the facility, even through multiple floors.

With the capability of multiple access openings on different floors, the VLS system is able to provide an innovative storage and retrieval solution. The rapid movement of the extractor as well as the integrated warehouse management software system can dramatically increase the efficiency of the picking process. Unlike large ASRS systems, which require a complete overhaul of the warehouse or production line, the Vertical Lift Module are modularized, which can be easily integrated into the existing system, or to be rolled out in gradually over different phases.